ASK THE DIVORCE COACH©, SUSAN ALLAN
For one hour free relationship coaching, susanallan@thedivorceforum.com
CATCH AND RELEASE IS FOR FISH!
Often, after an argument, separation, or even divorce, a couple may reunite. Sometimes, the reconnection is based on love, communication and a new strategy for peace. However, many couples who have un-hooked include one partner who enjoys sport fishing! If you have been hooked and thrown back a number of times, when do you declare, "fish or cut bait" to yourself? If you are the one whipping that pole and net around, remember that if you catch and release the same trout 10 times, the fish will die anyway, just from the trauma!
What happens when you do this unconsciously and notice that your partner is returning to the bottom of the lake for safety? Or, if you have felt like prey in your last relationship, you may prefer to protect yourself from reentering the dating pool. How can you heal while you come up for air and consider a new fisherman or woman? If you stay out of the water, you will never know.
CLIENT: "Thank you again for your patience and understanding of this situation, I can't say how much I appreciate your taking the time to correspond with me on this matter. This is tearing her father, sister, grandparents and other family members apart, as well as myself beyond belief." PB
Dear Divorce Coach,
I have been married for 14 years and have 3 wonderful children. Our marriage has gone through a lot. When things were rough, my husband threatened to leave and I would beg him to stay. Now, he is finally happy and I am not. I worked so hard to get him to stay and now I want out. When we talk about our problems, there is no burst of emotions or fights. It's scary; the connection is gone. Finances and the bedroom have always been a problem between us. We agree that neither of us feels emotionally safe. What is to become of us?
Sincerely,
Dead: in bed and in my head
Dear Dead,
When there is an undercurrent of anger, rage and fear, it is impossible to reconnect. I imagine you feel exhausted because you need support; sad because your need for love is not met and worried because you have a need for true companionship. Ironically, you may each have similar feelings. I offer a one hour free phone coaching session. My clients understand that even if you divorce, you will need to co-parent for the rest of your lives. Learning new ways to think, listen and speak to each other may create a miracle , even if only one partner allows works on transformation.
Sincerely yours,
Ask The Divorce Coach, Susan Allan
Dear Divorce Coach,
This is such a blessing that you would give of yourself - Thank you! My marriage of 15 months is crashing by the hour. My husband has verbally and physically abused me; I have a pfa. We foolishly have tried to reconcile and although he is not inside the home still, he has resorted to verbal abuse and constant calls. Yes, I know all I have to do is call the police------ but I was part of the problem by letting him back into my life. I have again shut down telephone communication. My ? is---- how can I obtain a legal separation and support? He's a step-father to my child and verbally agreed in our wedding vows to take care of my son. Please help!
Sincerely,
Resigned or remind?
Dear Resigned,
Often we feel confused between "history repeating itself" and a willingness to reconnect in love. Sometimes, we must trust, until there is evidence of real physical danger or extensive emotional stress triggered by a relationship. Blaming yourself for "letting him back into my life" is not helpful. Instead, I urge you to practice self-empathy of Nonviolent Communication™ so that you may find peace instead of more pain. Unfortunately, verbal agreements are rarely helpful in court and a 15 month marriage will not offer much, if any, spousal support.
Sincerely yours,
Ask The Divorce Coach, Susan Allan
In some relationships, one spouse may return again and again to the same fishing grounds hoping that the trout had grown-up and has passed the "throw 'em back" stage. Have you ever hoped that the next time you see one another, at a child's sport event or school play, that she will offer you the appreciation for financial support lacking during your marriage? Have you ever prayed that he would notice you in the kitchen during a custody shift and see how beautiful you really are? Do you find yourself dating a new partner and missing your ex's qualities of commitment or passion or acceptance? Have you ever longed for the Frankenstein approach; to cut and stitch together a few different candidates? This may be another cause for "catch and release". If you list and prioritize your needs, you will focus on partners who will meet them sooner, not later.

Next week's column will include strategies and tips to reach mastery of your own life as you heal from PANIC, AGONY and RAGE, three of The 7 Stages of Divorce, and also move forward in The 7 Stages of Love.

For 101 Divorce Survival Secrets, and free E-zine, visit www.thedivorceforum.com , with Collaborative Divorce information. For one hour of free, private telephone coaching, contact susanallan@thedivorceforum.com
Ask
The
Divorce
Coach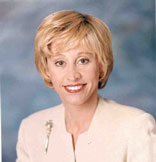 Susan Allan COO of The Divorce Forum™