As seen in The Santa Monica Observer Weekly
ASK THE DIVORCE COACH©, SUSAN ALLAN
DATING LIKE A KID IN A CANDY STORE
Will your first date be the beginning of something and the
end of nothing?
After divorce many remain in resignation; slightly numb and mildly uncomfortable for years. Others languish there permanently. It is easy to avoid the real feelings, the true vulnerability and sometimes you won't realize this is what you are doing. You may remain in DENIAL, replacing the divorce victim story with the dating victim story. Then you may go through a phase when you've "quit looking" and are hoping to meet someone "when you least expect it" but is this the truth? Most people who get to this stage are like salesmen who tire of cold calls when their next sale might be one phone call away. A successful businessman told me, "The reason that salesmen become so aggressive is that they can't bear to hear "NO" one more time." When you become stuck on the way to a goal, it is usually fear that stops you whether it is a career goal or a love goal. If you discover yourself thinking, "Testing….one….two…..three… thousand" and find that you are still not producing results, look for any unresolved AGONY and RAGE and work to complete them. These are the key emotions that stop you from attracting new companions. You may avoid pain for as long as you believe that you cannot cure yourselves of it and for as long as you believe that vulnerability equals pain. Once you have developed the expertise to process through any AGONY or RAGE, then vulnerability will be all you desire, knowing that it is the connection from one heart to another, one mind to another and one body to another. You have two options; to go into resignation and stay "on ice" for a while or to plunge in, feel the feelings and keep going.
Dear Divorce Coach,
If my wife and I are having problems, leading to a divorce, can I prevent her from living with myself and our children prior to divorce? She spends a lot of time away even overnight. She knows that it bothers all of us that she does this and yet she won't stop.
Sincerely yours,
Worried not Buried

Dear Buried,
Would you enjoy learning new skills to discuss your needs with your wife? I offer a free hour phone session, to discuss this training. You may attempt to create a legal separation agreement with a divorce mediator. If your wife has found a place to stay that meets her needs for peace and safety yet allows her to be connected with you and the children at other times, what is triggering your pre-divorce upset?
Ask The Divorce Coach,
Susan Allan
I have had the opportunity of watching "resignation in action" and to give it a push. I was having a drink with a friend at a restaurant at the Santa Barbara marina. We began to speak to a man at the bar who told us that he had been coming to the restaurant for eleven years but had never succeeded in picking up a woman. My first response was, "Try another restaurant!" But my friend moved into high gear and we went to work. I gave the man empathy and saw his sadness and fear begin to lessen while my friend scouted the restaurant for an appropriate date. The three of us were having so much fun laughing about the situation when two women appeared, one who actually looked like our new friend. Within the hour my date had organized an outing with the five of us going to a dance club. Every time we looked at the other man's face he was somewhere between shell-shock and ecstasy. When we left the club, our new friend and the woman were holding hands and had kissed. We hypothesized the results and we knew that we had lifted him right out of resignation, in spite of himself. Whether he would develop friendship or intimacy we could not know. But for the rest of his life he would know that it was possible to find companionship and have fun as long as he had an open mind and willing attitude.

For support to improve your marriage please look for our new website, www.themarriageforum.com and for one hour of free, private telephone coaching, contact susanallan@thedivorceforum.com Featured on The LA Daily News' BookTalk™ 818-788-9722 x 3655 For 101 Divorce Survival Secrets, and free E-zine, visit www.thedivorceforum.com .
Ask
The
Divorce
Coach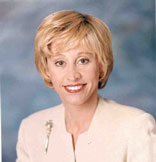 Susan Allan COO of The Divorce Forum™